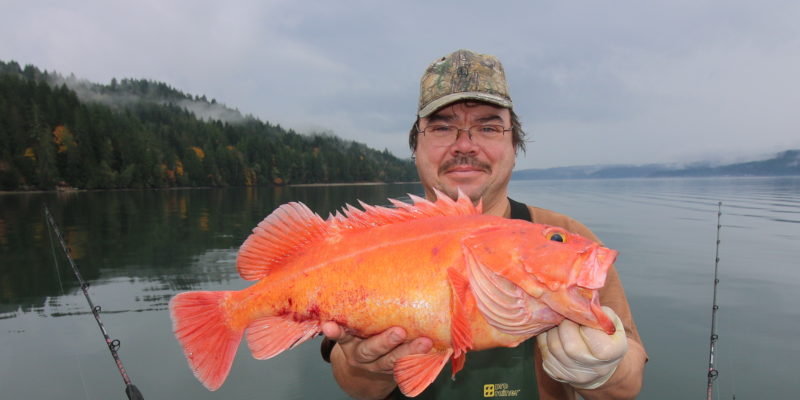 Seattle Fishing Charters Ltd. NOAA Puget Sound rockfish study.
Endangered Rockfish DNA Sampling
In 2014, Seattle Fishing Charters started contract work for National Marine Fisheries and the Northwest Fisheries Science Center as angling experts for several Puget Sound fisheries studies.
There were 3 species of rockfish that had been listed federally as endangered in the waters of Puget Sound: yelloweye, canary, and bocaccio. Captain Steve Kesling worked with NOAA biologists to hook and line angle for these specific species in central Puget Sound. This was not an easy task as there are very few of the target species in the area. In 15 days of fishing we were able to catch 17 canary, 4 yelloweye, and 3 bocaccio. The bocaccio were especially gratifying. In the past 27 years, only 2 other confirmed bocaccio have been caught in Puget Sound and those were caught in a State bottom trawl survey.
As their name implies all 3 of these species of rockfish inhabit rocky marine areas or other structure. Mature yelloweye and bocaccio inhabit deep water, typically 200 to 600 feet. Several of our sample fish were caught on a small drop off ledge in about 230 feet of water that rings the northern central sound like a bathtub ring.
In this deep water fishing we used Diawa computerized electric reels spooled with 65# superbraid. This is the same setup we use for halibut and offshore lingcod.
The DNA results showed that the Yelloweye in Puget Sound are a distinct and seperate species and need the protection they are getting as an ESA listed species. Puget Sound canary rockfish were shown to not be a distinct population but part of a larger population that includes the Pacific Ocean. They were removed from ESA listing as a result of this study. There is not yet enough bocaccio samples to make a determination.
Part of this NOAA rockfish video was shot aboard our charterboat Fishfull Thinking II.
Volunteer Angler Program
For NOAA scientific studdies Seattle Fishing Charters invites volunteer anglers to participate, typically 2 to 3 persons per trip. We have been fortunate to have a great range of skilled anglers from local fishing clubs like Puget Sound Anglers and from fishing forum groups on Facebook including Washington State Fishing. If you are interested visit our Facebook page for more information.
Most trips depart from the Port of Edmonds or the Skyline Marina in Anacortes. All bait and tackle is supplied. Anglers need to bring a lunch. We are usually out 8 to 10 hours. This type of fishing demands good weather, if it is windy we reschedule.
This has been a really fun project with many passionate anglers involved and a great opportunity to learn from State and Federal biologists in the field. I can't say enough good things about working with the people at NOAA. We currently have 26 scientic study dates remaining. There are also some additional days fishing for flounder, bullhead, shiner perch, herring and kelp greenling. These fish will be used as live bait for lingcod studdies. Looking forward to it!