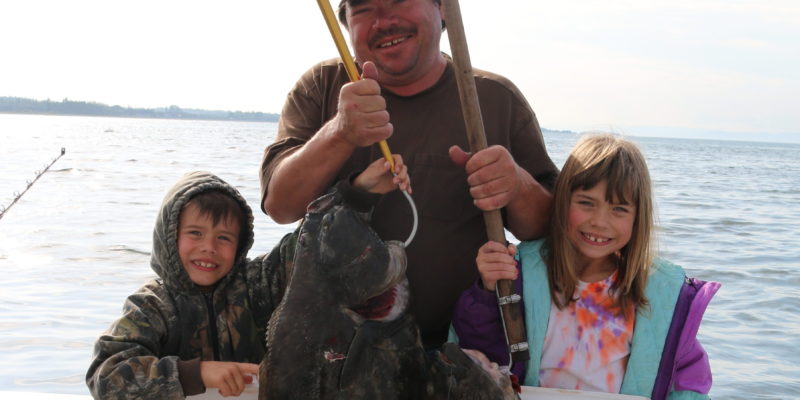 Wasington Halibut Fishing Charter
Washington halibut fishing charters will have only 3 days to fish the ocean and the Strait of Juan de Fuca in 2017. Halibut are the most prized of all Washington ground fish. Halibut are one of the best eating fish period. Fantastic table fair combined with the possibility of catching a "barn door" of well over 100 pounds makes this fishery wildly popular. For a few days each year sleepy towns along the coast of Washington will come alive with a steady stream of trucks and trailers. Halibut fishing days this year are May 4,6 & 11. WDFW Halibut information and creel reports.
Last year, Adventure Charters fished 2 halibut days on the ocean out of Neah Bay. The first day we ran offshore to Blue Dot, a little over 30 miles out, then we moved to 72 Square about 38 miles out. Both spots produced lots of good action on halibut and lingcod in 450 feet of water. 56 ounce Norwegian Jigs produced best fished on 65 pound test Berkley Stealth Superbraid. This is where our Diawa Tanacum 750 electric reels really shined. There is no better way to fish deep water than with these electric reels. We landed about 30 halibut and 50 or so lingcod. Most of these halibut were 15 to 25 pounds though we did see a few up to 35. There is a video of some of the action at Blue Dot on our home page.
On our second day we fished near shore in the mouth of the Strait. This spot does not have the lings but the halibut fishing was very good and the average size was larger. Most were in the 25 to 35 pound range with some going to 50. We were fishing whole brined horse herring on a spreader bar in about 200 feet of water. The bite started mid morning and lasted throught the afternoon.
We filleted our halibut boneless and vaccume packed them. Kept frozen at 20 below it is almost as good a year later as it was the day we caught it.
Adventure Charters Washington halibut fishing charters are considerably more expensive than our other fisheries. That is because our operating costs are very high for this destination fishery that only last for 3 non consecutive days. As of this writing we have space available if you would like to join us.