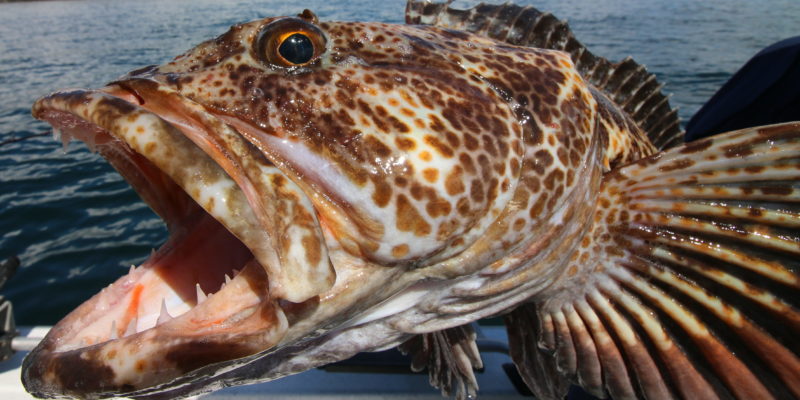 Lingcod – the beast with beauty in the San Juan Islands.
In the deep, dark and cold waters of Puget Sound lurks a monster, a water dragon really. Big tides make high current sending salt water rushing and swirling over steep rocky terrain, here the dragon hides in plain sight.  Prehistoric looking with leopard like mottled coloration, no two look the same. It's cavernous mouth will be the final sight for many a fish, prawn or octopus. These are ambush hunters, fins spread wide clinging to rocks and shipwrecks, tall stalks of bull kelp waving overhead. The current, an accomplice, pushes unsuspecting prey to it's lair. With needle like teeth in the front and inward slanting teeth deep in the mouth, few escape. The dragon is aggressive and voracious. It will attempt to swallow prey half it's own size. Anything that struggles is showing weakness and attracts quick attention. Dragons often battle and cannibalize one another, leaving many with distinct lifelong scars.
I recently returned from a 6 day expedition to the San Juan Islands, where myself and fellow dragon hunters were joined by researchers from NOAA. We were in search of dragons for the sake of fisheries science. This trip was part of two ongoing studies, one to catalog the dna profile of the greater lingcod population on the West Coast and another to determine if the use of certain bait types can reduce rockfish bi-catch in lingcod sport fisheries.
Each morning, our crew of dragon hunters would assemble at 6:30 am to prepare gear for battle. We would fish with 3 different bait types; jigs (both lead head and darts), whole herring, and live bait (in this case sand dab, rock sole, and kelp greenling). NOAA had predetermined fishing sites for each day. We would fish only one bait type for about an 1.5 hours at each site. We would then switch gear types and move to a different site.
Dragons were battled, both large and small. Most fish were landed and some were lost. Our largest fish was a massive heavy female dragon. She latched onto a 3 pound quill back rockfish. The rockfish was hooked on a whole herring mooched by angler Erik Shouse. This fish was brought all the way to the boat and netted while only holding onto the rockfish and never actually being hooked! We call that a "klingon". The big female immediately rolled violently spinning up the net, turning it over and winning her freedom as she fell back into the sea. The event was captured on Erik's gopro and can be seen on his Facebook page LazyCoho.
Part of our adventure was filmed and photographed by by Michael O'Leary of Portland OR, Andy Whitaker of Seattle, and Erik Shrouse of LazyCoho. The scenery of the San Juans providing a spectacular backdrop unique to the Pacific Northwest. Their photos and video will follow. All pictures on this post are mine. I have nowhere near their photography skills.
Before we were finished we would see lots of lingcod, a couple more klingons, many quill back and a few copper rockfish, 3 endangered yelloweye and a few greenling and rock sole. Our success was due to the talented anglers that participated: Matt Pouley, Jeff Blume, Erik Shrouse, Michael O'Leary, John Citron, David Wong, Andy & Joanna Whitaker, and Jim "Protein" Dessin. Special thanks to the good people at NOAA, Kelly Andrews and Jameal Samhouri.
More lingcod science trips are coming this week in Central Puget Sound!
Please like Fishing Seattle with Adventure Charters on Facebook to follow more of our adventures!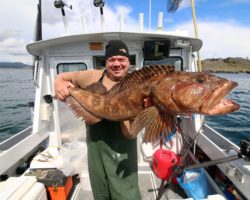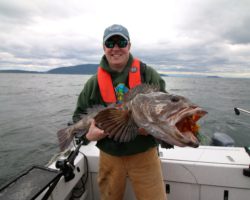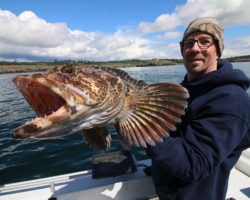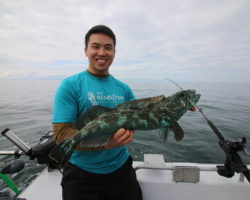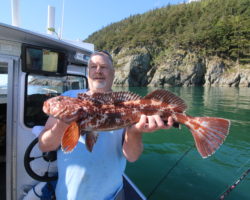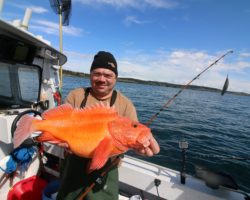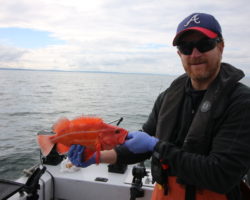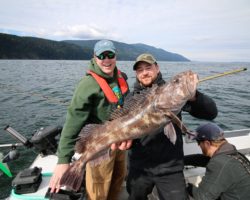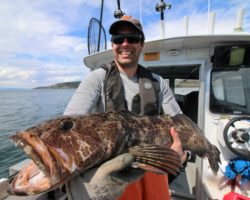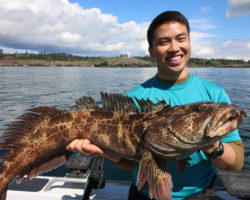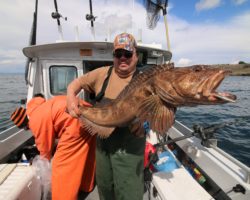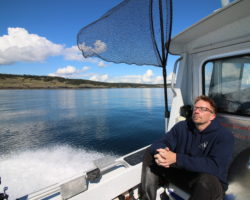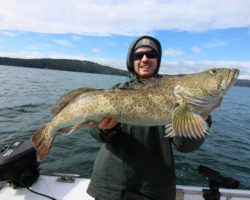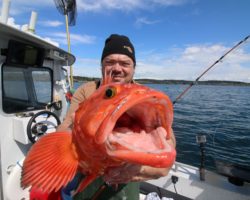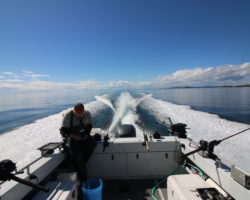 -Captain Steve Kesling