Please consider the following
Honest fishing reports and opportunity to change your plans.
Expert fishing guide. 24 years in business. We work harder.
Captain AND deckhand assistance on almost all trips.
Hands on fishing. Set the hook on your own fish.
Trolling boats catch more keeper salmon than mooching boats, period.
No booking fees going to second parties. 100% of your charter fee going into your charter.
Call or text directly with your Captain and guide, not a booking agent.
Expert care of your catch. All fish are bled and iced immediately. Amazingly some local charters do not ice your catch or inadequately ice to save costs and some just use seawater. Our seawater is 53*F in the Summer, far to warm for the quality care of your catch.
Our goal is 100% customer satisfaction on every trip. We don't choose our fishing area based on saving fuel. No fuel surcharges. During times of hot pink salmon fishing we don't bonk every fish that comes across the rail and give you a one hour trip. Sometimes we do catch early limits of salmon and return to the dock early but we recognize that you are paying for a unique fishing experience and we are not trying to get you back to the dock as fast as possible. We will give you honest advise based on current fish patterns.
All prices include equipment, fish cleaning and bagging and Washington State sales tax- One day fishing license additional $10 for anglers 15 years and over if you do not have one.
We offer superior services at very competitive prices. We book direct. Elsewhere 20-30% of your charter fee may be going to a booking agent and your questions may be answered by a booking agent rather than your actual Captain and crew - it makes a difference.
With us you are paying for a quality charter provided by experienced and fun Captain and crew.
UPDATE 9/21/23 Edmonds Marine Area 9 has a 2 coho limit. Seattle Marine Area 10 has been reduced to a 1 coho limit by Washington Department of Fish and Wildlife emergency rule. With recent rains fishing has been changing daily. To see pictures of daily catches please visit our Facebook page "Fishing Seattle with Adventure Charters". NO FUEL SURCHARGES.
Edmonds and Seattle Fishing Charters Pricing Below
6 hour morning or afternoon trips
Please see our reviews on Google, Yelp or Facebook at "Fishing Seattle with Adventure Charters" They are all honest reviews. Book with confidence!
Shared Charters
250.00 per person (sales tax included)
2 person minimum for the boat to go out- 4 hour trip.
3 person minimum for the boat to go out- 6 hour trip.
Private Charters
1 to 3 person private (weekdays only) $800
4 person private charter $1000
5 person private charter $1250
6 person private charter $1350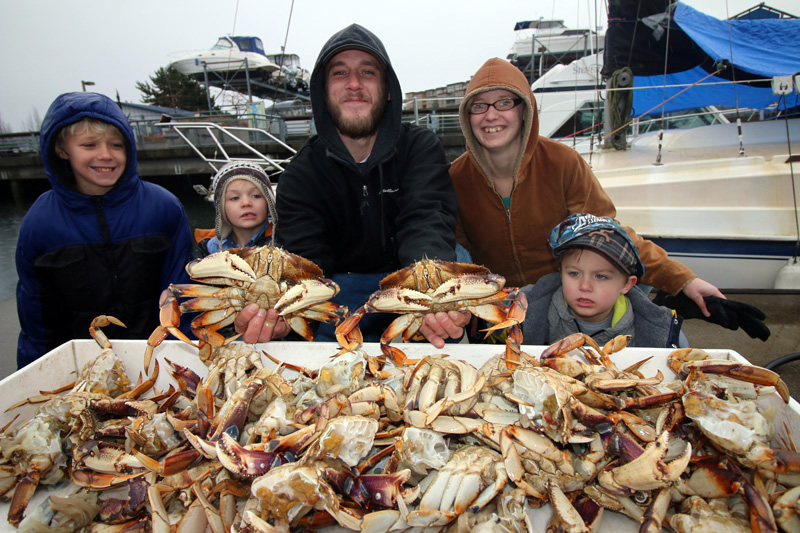 Dungeness Crab Fishing
Quite possibly the tastiest thing in the sea.
Dungeness crabbing can be added to many charters 
depending on season and current conditions.
We custom make our own crab pots and they are the best out there.
Our custom pots combined with a commercial pot puller from Discovery Bay Marine give us a distinct advantage.