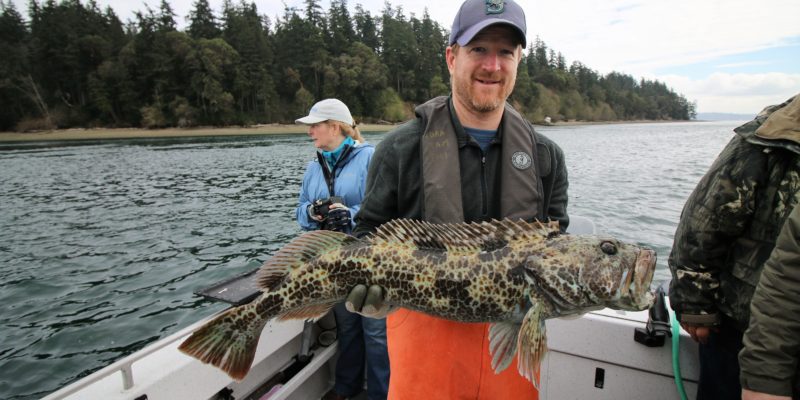 Puget Sound Lingcod for DNA Sampling 3/31/2017
Adventure Charters completed another day of lingcod sampling for National Marine Fisheries. Today's fishing included a rock fish by-catch study. Our target area was the Southern part of marine area 10. We departed the Port of Edmonds Marina at 7 am and returned at 4 pm.
A 13.5 foot ebb tide produced very strong currents and was a bit challenging. We fished with live bait-pacific sanddab and rock sole, whole mooched herring and Point Wilson Darts. We lost our fair share of hooks and sinkers but no jigs. Two lings were landed and 3 to 4 were lost in structure.
Many thanks to Lisa and John Coale of Salish Sea Distributing for helping out as volunteer anglers today. Salish Sea distributes Jerry's Bait frozen herring, an excellent product. Ryan Lestock jumped on board today to fill in for a last minute cancellation. Ryan works as a fisheries observer aboard commercial fishing vessels in the Bearing Sea. Ryan had lots of interesting insights about fishing and he hopes to return for a salmon charter this Summer. Calm winds and good company made an enjoyable day on the water.
More days of lingcod fishing will be coming up. If you are interested in being a volunteer angler please visit our facebook page. Others that have already sent an email about volunteer angling may be hearing from me as we schedule more dates